Home Office Window Treatments In Tampa That Work For You
If you find yourself working from home these days, you likely need assistance in optimizing your Tampa home office. Start with your window treatments. Looking to see a quick comparison of the different home office window treatments?
Here is a link to our window treatments chart, for window treatments perfect for your home office.
Options like plantation shutters and motorized window shades are popular home office window treatments for Tampa professionals who would like to create a comfortable and productive work environment without giving up your home's personal charm. These preferred products have an added bonus of helping you look your best during video calls! Explore the ways you can use these window treatments to your benefit.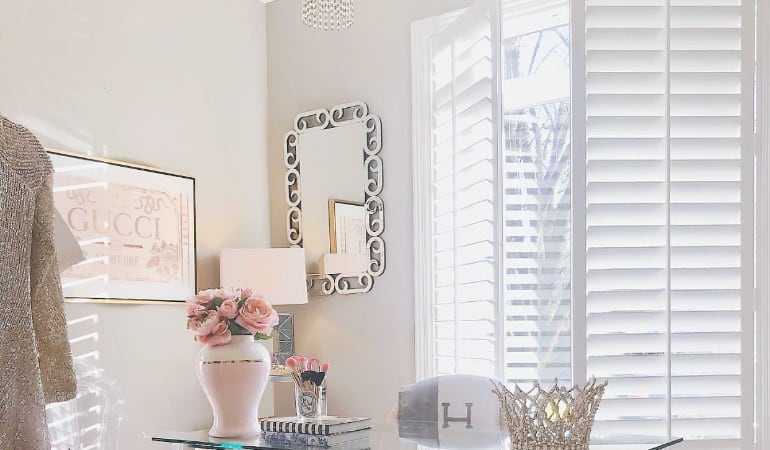 Plantation Shutters: A Top Choice In Home Office Window Treatments In Tampa
Working remotely is often a challenge, so choose home office window treatments in Tampa that will make the workday more pleasant. The time-tested craftsmanship of plantation shutters makes them a popular choice when you'd like to manage your area's light and temperature.
One of the perks of working from your home office is that you have total control over the temperature. But keep in mind, you don't want to bump up your utility costs by running the HVAC all day long. Faux-wood shutters with insulating capabilities can help. During warmer months, shut your plantation shutters to cool your home office and eliminate the glare on your computer screen. On chilly days, that insulating ability helps reduce drafts.
Want to reduce electric bills or hate poor lighting? Move the louvers on your plantation shutters for filtered light that you can redirect from your computer display and into other areas that need it. Shut them again to remove potential diversions like passing traffic and dog walkers. Keep them shut to maintain privacy after dark if you need to work late.
If you'd like a little more appeal in your home office, the clean lines of Polywood shutters create an elegant architectural detail that gives a boost to even the plainest office window. They can be found in a multitude of versatile colors as well. Whether you select crisp white shutters or a warm-toned hardwood shutter, your new home office window treatments will make you happy to be working remotely!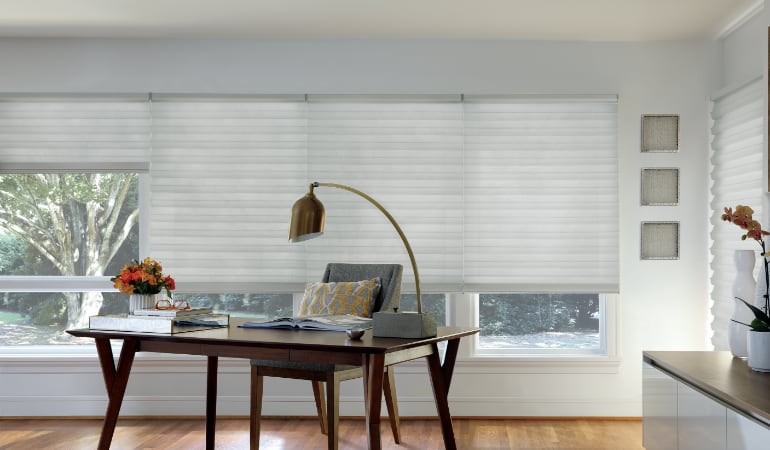 Motorized Window Shades Are A Smart Choice for Tampa Business People
Like plantation shutters, many styles of shades deliver coverage and insulation for your home office. You can use blackout roller shades to minimize distracting glare. Eco-friendly cellular shades protect you from chilly drafts and maintain a room's warmth. Transitional shades allow you to pick between light through a gentle filter or total darkness.
Window shades can be found a range of materials and colors to fit your individual preferences and fulfill your idea of an ideal home office. You may enjoy a distinctive option like Roman shades that provide an elegant backdrop during conference calls or a simple and functional product like roller shades to eliminate outside disturbances.
When you figure out the kind of window shade you plan to buy, explore the motorized option to enhance your workspace further. Motorized window treatments function with a remote controller instead of manually. This gives you numerous options for managing the light in your home office.
If the sunlight shifts and a glare interrupts your attention, you can close your shades with the press of a button without leaving your desk. If too much light is washing you out on a remote meeting, or you find your work space resembles a dungeon on your monitor, you can lower or raise your motorized shades from your desk without disrupting meetings. Your co-workers and clients will be impressed with your professional workspace when you upgrade your home office window treatments in Tampa.
Are You Still Wondering Which Window Treatments Is Right For Your Office? We've Put Together This Chart To Help Compare All Of Your Choices.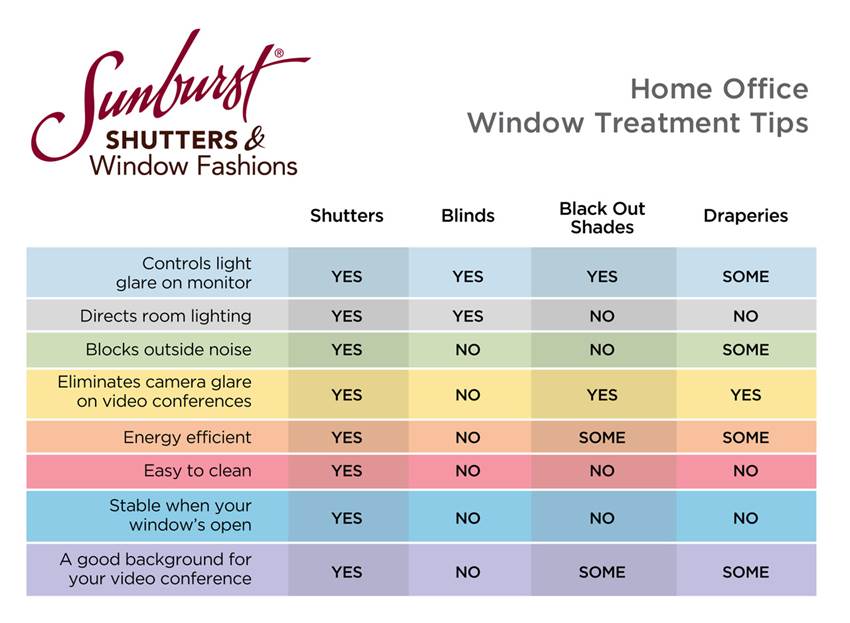 Elevate Your Tampa Home Office with Window Treatments From Sunburst Shutters
You will stay focused and productive when your window treatments keep you comfortable and distraction-free. Speak with the window treatment experts at Sunburst to select the best options for your home office. To request a free in-home consultation, dial 813-580-7288 or submit our simple form.