The Best Nursery Window Treatment Ideas In Tampa
As an expecting parent in Tampa, you want to make sure every aspect of your bundle of joy's nursery perfect -- including the window treatments. But prior to picking your window treatment, don't forget that safety and functionality are essential. Newborns are able to yank down drapery or get caught in the pull cords of blinds. These treatments don't block exterior light and drafting for good sleep either. Instead, choose child-friendly, efficient plantation shutters or cellular shades as window treatments for your nursery in Tampa.
Plantation Shutters Keep Your Nursery Stylish, Safe, And Cozy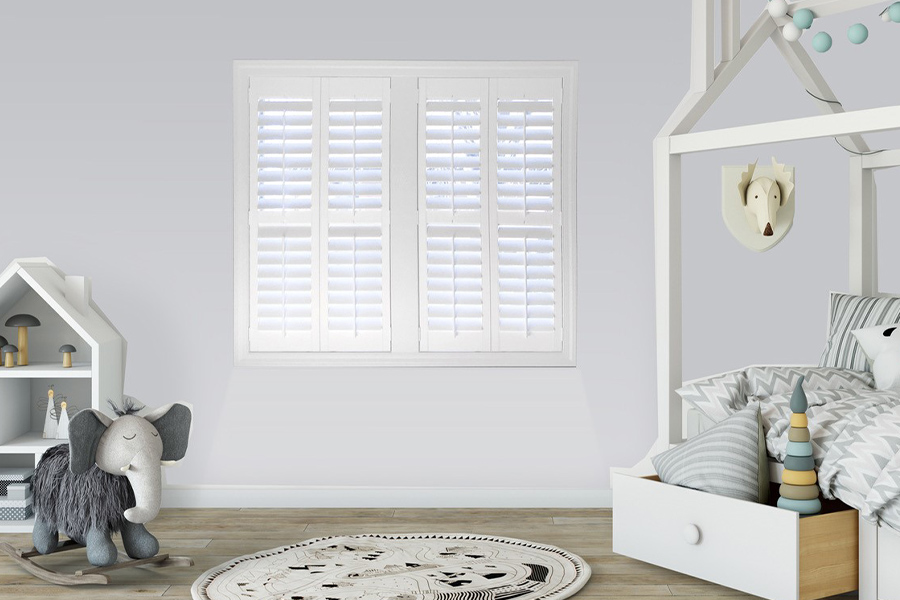 Interior shutters maybe aren't at the top of your list of nursery window treatment ideas in Tampa, but they ought to be! These time-tested window treatments look stunning in any room. Their louvered panels offer an eye-catching contrast to the softer furnishings typically found in a baby nursery. You might use
white faux wood Polywood® shutters
in nurseries with vibrant or lighter-toned colors. Stained hardwood shutters could be a better option when your nursery consists of nature-inspired components or you would like to harmonize with existing wood trim. And when you change the design as your child gets bigger, your shutters will continue to work well with the space's new feel.
Interior shutters utilize a unique construction that makes them ideal for little ones' bedrooms. As an alternative to using drapery or cords for a baby or toddler to grasp on or get tangled in, interior shutters utilize rigid panels with movable louvers incorporated into a frame around the window. They also wipe off effortlessly when they get those unavoidable marks from small hands.
Shutter panels and slats give you many methods for directing sunlight and privacy in your child's space as well. Swing back the panels for a sun-splashed play area or secure them and turn the slats toward you to allow a bit of outside light and redirect it off the floor where your little one is playing. Then close the panels and slats to eliminate nearly all light for naps and bedtime.
Shut plantation shutters keep out cool breezes too. Air won't get past real wood and faux wood as it does through other window treatments. And premium Ovation® and Polywood shutters employ the finest manufacturing techniques to greatly reduce gaps where air might get past. Polywood shutters also feature exclusive weather sealing that makes them the most energy-efficient nursery window treatments in Tampa and makes sure your room remains at a consistent temperature for a soothing slumber.
Cellular Shades Bring Added Efficiency and Versatility To Nursery Windows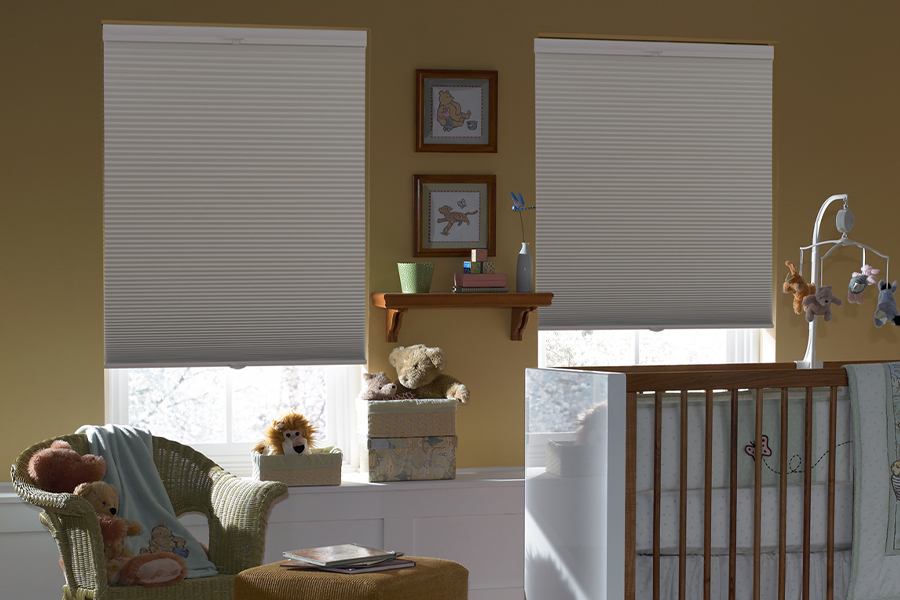 If you would like a softer option for your nursery window treatments,
consider cellular window shades.
These window shades are offered in many different materials, colors, and patterns for you to select from. You'll also find different types including top-down/bottom-up shades that provide more flexibility with sunshine and privacy or cordless shades that a child isn't able to become tangled in.
The top advantage of cellular shades is their superior efficiency. Their structure creates little compartments that catch air entering through your windows before it infiltrates the nursery. They help keep the room at a pleasant temperature and utility expenses within reason.
Would You Like More Nursery Window Treatment Ideas In Tampa? Speak With Sunburst
Whether you need nursery window treatment ideas in Tampa or choices for a separate room of the house, Sunburst Shutters Tampa has your solution. We carry a wide selection of window fashions that make your property more stylish and comfortable. Contact us at 813-580-7288 or submit the form on this page to schedule a complimentary in-home appointment and discover outstanding window treatments in Tampa.