What Are The Best Window Treatments For Over The Kitchen Sink In Tampa?
When you're shopping for window treatments, don't forget about the kitchen -- especially over the sink. If you have concerns about the constant spattering of food and water ruining a window treatment over the kitchen sink in your Tampa home, install durable faux-wood shutters. These products add appeal to all areas but stand up to the often wet and messy kitchen environment.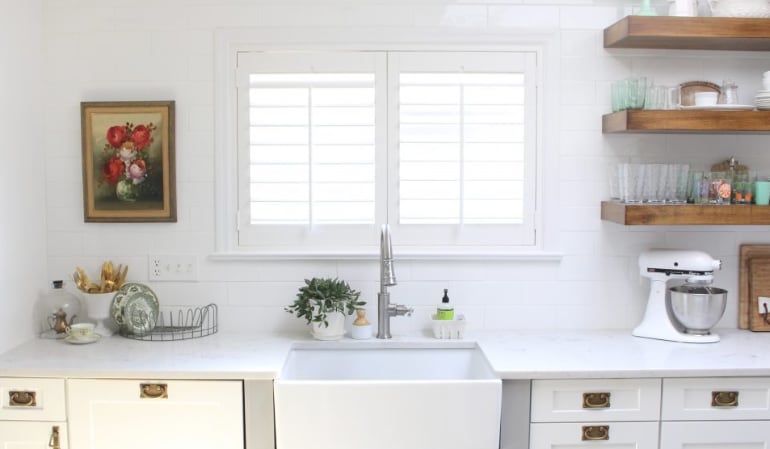 Dazzling Faux-Wood Shutters Elevate All Tampa Kitchens
Window treatments over your kitchen sink in Tampa should offer function and durability. With that being said, your kitchen treatments will seem as elegant as your family room treatments when you install trendy faux wood Polywood plantation shutters.
Polywood shutters blend in seamlessly with all types of kitchens. They come in in various tones of white that complement your kitchen appliances and finishes, and their strong panels of functional louvers create texture that contrasts beautifully with the smooth surfaces of your kitchen. Interior shutters add subtle appeal to both luxury and minimalist kitchens and all spaces between.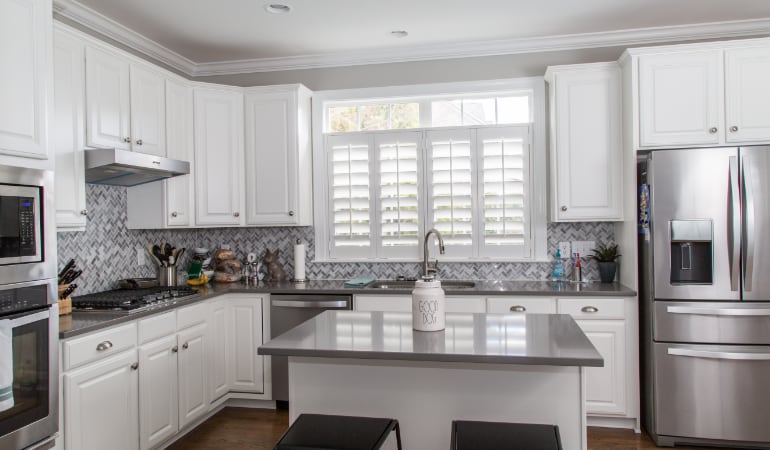 Polywood Shutters Stand Up To Heat And Moisture
Do you ever see condensation on your kitchen window when you're trying to boil water or wash dishes? That moisture attaches to window treatments over your Tampa kitchen sink, where it can damage traditional cloth curtains or shades as time passes.
Instead, you should look at interior shutters. The faux-wood material and tough outer coat resist damage from a moist and steamy environment. In fact, these products are impervious to water. They will never warp, chip, or split from high levels of humidity.
The sun and changing seasons will have no influence over your Polywood shutters. On the window over your sink, these products are faced with cold drafts and powerful UV rays. Your shutters won't shrink and expand from excessive interior heat or frigid outdoor temps, nor will they suffer from fading due to high levels of sunshine.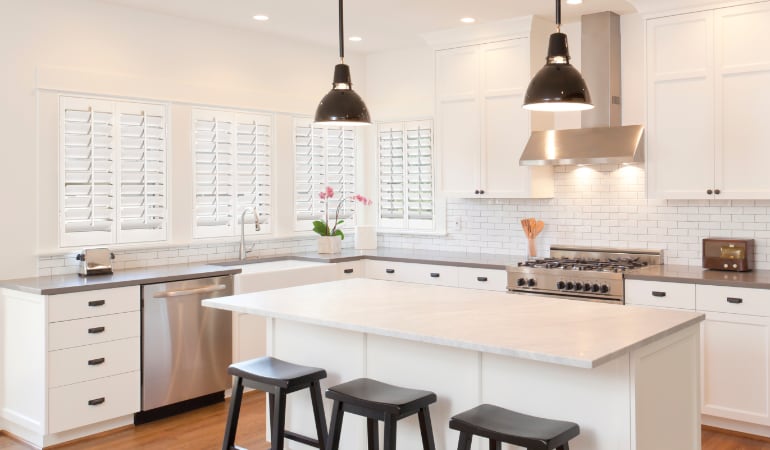 Polywood Plantation Shutters Welcome Light Into Your Kitchen
Getting enough light is critical in your Tampa kitchen. It would be silly to injure yourself because the lighting is too dim! Plantation shutters bring in the desired level of natural light and are a cinch to adjust. Open the panels or use the tilt rod to move the louvers up and down. There's no need to get frustrated with twisted, hard-to-adjust cords or an inconvenient pull bar that is not easily accessible when you need more illumination.
For the brightest light, let the panels swing open entirely. If the sun's rays are a bit much, move the panels back in place and move the tilt bar for softer light. You can also shift the slats to reduce glare off counters and flat surfaces within your space. If you want to avoid curious observers seeing into your home after dark, move the slats to the closed position for complete seclusion.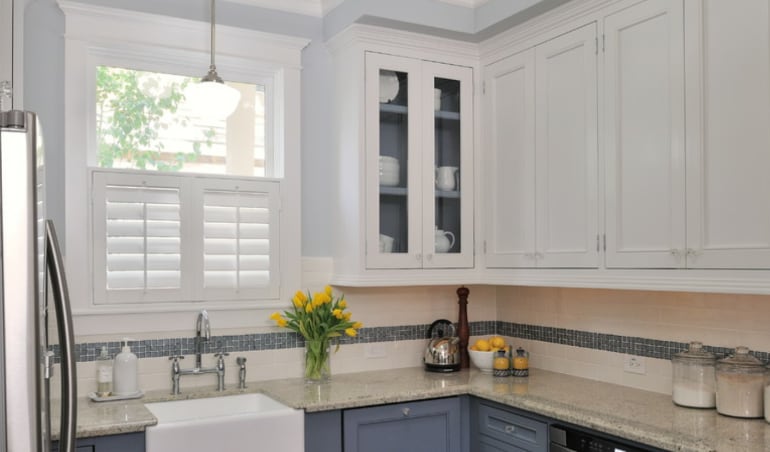 Faux Wood Shutters Make Cleaning Easy
Kitchen surfaces collect grease, crumbs, and dust. Any window treatment over your Tampa kitchen sink must be easy to clean. With this in mind Polywood window treatments are great for kitchens. The impenetrable material doesn't stain or hold odors as fabric shades do. A simple wipe with your lightly dampened rag, and they're clean again.
You'll never have to spend too much time awkwardly moving your cleaning wipe through the slats as you do with flimsy blinds. Shutter louvers are sturdy, and you can choose from different sizes, including wider ones that leave large spaces for you to reach through with your cloth.
Find Window Treatments For Over Your Kitchen Sink In Tampa At Sunburst Shutters Tampa
Sunburst Shutters Tampa provides the perfect solution for any window -- even the one above your sink. Speak with our experts about what you envision for your windows, and we'll customize a plan for your home. Contact a friendly representative at 813-580-7288 or complete our online form to get started.