What Window Treatments To Choose For Your Tampa Custom-built Home
When you're building a custom home in Tampa, you want to get every detail right, including the window treatments. It might come as no surprise that plantation shutters are a leading choice in window treatments for custom homes in Tampa. Their functionality and beauty incorporate well with interiors of all types and provide you total authority over natural light. With these qualities you are able to quickly fashion a pleasant space and accentuate the unique elements of your custom-built home.
How Do Plantation Shutters Enhance a Custom Home?
When you want to show off your custom home, select window treatments that residents in Tampa incorporate to enhance their homes. Plantation shutters work wonderfully with homes of various styles. They are a focal point and garner attention from anyone who are more accustomed to outdated drapes and metal blinds. Their simple but elegant aesthetic requires no extra dressing to provide a dazzling dynamic and make a great first impression on family and friends.
Plantation shutters are a great window treatment choice for a custom home. Their distinct construction and classic colors complement any interior, so you are able to advise the home builder to include them in any room and not have to worry how they will match once you furnish your home.
Plantation shutters can also be designed to fit both standard windows and windows with specialty shapes, so you can use them for windows of any type and avoid the inconvenience of picking different window treatments for each room. That's one less detail to figure out during the busy home design phase!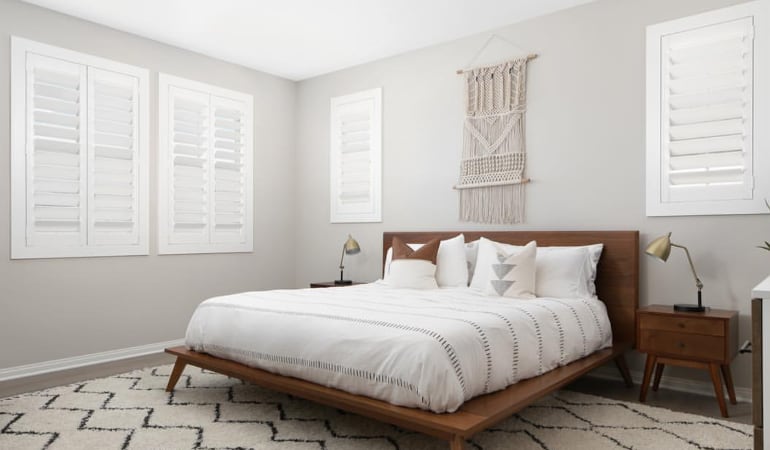 How Do Plantation Shutters Allow You To Direct Sunlight?
Your visitors will appreciate the feel of a sun-splashed home. Although you are likely to select impressive light fixtures to illuminate your custom home, sunlight has special characteristics that give an area a larger appearance or alter its mood.
However, sunlight is hard to predict. As the sun moves throughout the day, the quantity of light entering your new home changes, and you have to alter your window coverings to filter the light accordingly. When trying to find window treatments for custom homes in Tampa, people show a preference for composite Polywood® and classic wood plantation shutters that help them control the amount of natural light a space receives.
You can use the tilt wand to change the angle of the louvers at times when the sun is in full force to give a room a more acceptable level of comfort and increase the opening to enhance the brightness when the sun is on the other side of the house. You are even able to swing back the shutters for complete sunshine to create a bright, airy look and fasten them again for a snug, closer-knit feeling.
Altering the slat angles also gives you the chance to redirect light. When moving the louvers in either direction, you can cast light all areas to make your space appear larger. You are able to shift glaring light away from your visitors' view and reflective surfaces without closing the louvers and eliminating the light altogether. With a single touch, you can control the quantity and the direction of daylight that shines in any room for everyone's comfort.
Get The Top Window Treatments For Your Tampa Custom Home
Showcase your home in its best light with the endless appeal of plantation shutters by Sunburst Shutters. We are your source for elegant window treatments that Tampa residents want for their custom-built homes. Contact us at 813-580-7288 or fill out the form below to schedule a no cost in-home consultation.