Window Treatments for Tall Windows in Tampa
Homeowners all across Tampa have a particular window or set of windows that sits high up on the wall close to the ceiling, or is so tall that it may be out of reach. While these windows are unique and stunning, they might cause stress when shopping for high ceiling window treatments.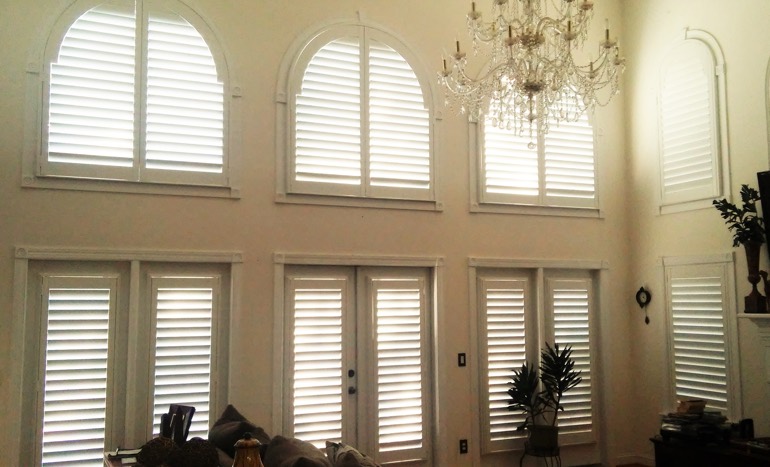 But don't fret - there's no window Sunburst Shutters Tampa has seen that wasn't stunning by the time we were done with it. Let's learn about a few of the best options for window coverings for the problematic windows in your Tampa house.
High Ceiling Plantation Shutters
When it comes to high ceiling windows, the more convenient, the better. That's why
plantation shutters
ought to be one of your first picks for a high window treatment. Most times the first question about window treatments for a high-sitting window is "How will I open and close it?" For shutters, that's hardly a concern, since it's typical to keep the louvers placed at a single, perfect angle at all times, so they get just the right amount of light while still maintaining your privacy.
If frequent louver movement is desired, there's no need to get out the ladder. We'll provide you with a telescoping pole to tweak the tilt rod, giving you complete control over the lighting. And after you've adjusted the shutter, the pole telescopes down to fit in your closet until the time comes to adjust the shutters again.
One of the biggest hassles which goes along with high ceiling window treatments is when it comes time to clean, just one more area in which plantation shutters shine. With their angled construction, material, and color, Polywood® plantation shutters don't require cleaning as frequently as other window treatments. And when you do need to clean, the louvers and frame can easily be wiped with a cloth, without having to move the shutters.
All of these features, combined with insulating shutters' top-notch energy efficiency, make shutters a superb fit for tall windows.
Automated Shades Make High Ceiling Windows A Breeze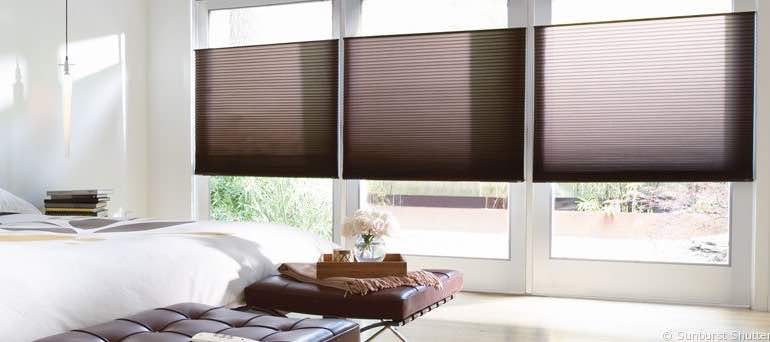 What's almost simpler than setting your high window treatment in a single position? Being able to adjust it with the push of a button! That's where motorized shades come in, offering chic style with the convenience of modern technology.
Automatic shades are a great partner for taller windows, especially since you can choose to either open or shut your shades the normal way, or remotely. Your windows have finally entered the 21st century!
Beautiful New Window Treatments Are Within Reach
Don't let the distance between the floor and your windows keep you from getting the best product for your house. Sunburst Shutters Tampa will do the hard part when you set up your
free in-home design consultation
. We'll do any measuring and the entire installation so you never have to step on that ladder. Get in touch with us today at
813-580-7288
or schedule your consultation online - we're looking forward to helping!